Noise isolating earbuds block out unwanted sounds. This is perfect when you want to focus on your thoughts or tasks. Your music is played with clarity as there is hardly any background noise to distort the sounds. For those of you who do not have much time to read here is a quick comparison table of what we think are the best noise isolating earbuds at the moment. Keep on reading for more detailed reviews.
Ready for reviews? Here we go…
#1:
Isotunes PRO Noise Isolating Earbuds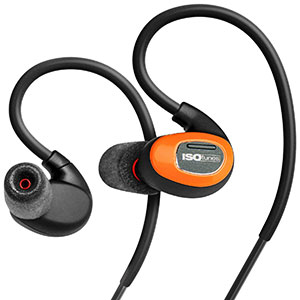 Click to Check Price on Amazon
Features
This earbud is intended to be used in loud environments. The 27dB noise reduction rating is ANSI certified. It's OSHA compliant and can be used in the work place. Answering a call activates noise reduction too. This provides a clear call for all parties.
The Safesound ™ technology ensures the user can listen to music without eardrum damage.
Check out 19 Best Cheap Earbuds Under $50 for Quality Sound
The playback and standby time are 10 & 240 hours respectively. There is a built in battery that is rechargeable via USB.
Isotunes PRO is equipped with Bluetooth 4.1 and EDR. It's compatible with all Bluetooth embedded devices. It also features aptX HD streaming audio.
Other features include:
Heat activated comply foam earplug tips for superior comfort and durability

IPX4 water and sweat resistant
Pros
Ideal to use on a job site 

Blocks most sounds yet you can still converse with others

It doesn't leak sound i.e. no one can hear what you're listening to

Long battery life
Cons
Bluetooth disconnects easily

Can be uncomfortable

Not strong structure

At times they don't stay secure in the ears as mentioned
Summary
This brand's product helps reduces the sounds of heavy machinery or equipment. You don't have to end your work day with hurting ear drums.
Find out the best headphones for music lovers.
#2:
RHA MA750i Noise Isolating Premium In-Ear Headphone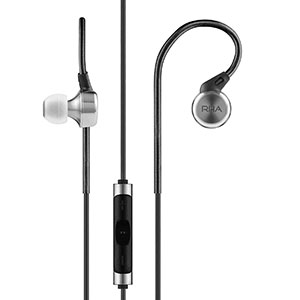 Click to Check Price on Amazon
Features
This earbud guarantees high performance and durability. The construction is 303F grade stainless steel. The handmade dynamic driver provides clear sounds.
It's specifically made for iPhones. There are six sets of RHA dual density tips for comfortable fit. All ambient noise is blocked.
You will find this helpful: 11 Best Bluetooth Earbuds Under $50 Reviewed
The unique aerophonic design is engineered to deliver high performing dynamic sounds. The shape of RHA MA750i is designed after the airflow properties of a trumpet's bell. This delivers audio across a full frequency range and authentic sounds.
Pros
Impressive and premium sounds delivered

Every ear tips provided has a strong construction

The cable is made of a thick rubber that won't wear easily

Balanced sounds frequencies
Cons
Cord gets tangled easily

Feels heavy

The sound can diminish over time

Can intercept with other frequencies and deliver a sharp noise as a result
Summary
This as an ideal alternative if your iOS earbuds don't work anymore. The noise cancellation qualities boost the sound experience. You can listen to all your music in clearly.
#3:
ISOtunes Noise Isolating Bluetooth Earbuds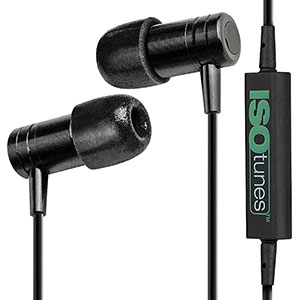 Click to Check Price on Amazon
Features
This earbud is design edand tested to be 100% OSHA compliant. It's safe to use at job sites that require noise isolation. The Safesound ™ technology protects your eardrums against loud unbearable noises
Read: Top 5 SoundPEATS Bluetooth Wireless Earbuds Reviewed
When working with machinery such as a lawn mower you'll still hear music clearly. The background noise won't make it difficult for you to hear the music.
The magnetic controls on ISOtunes allow you to play and pause music & answer and end calls. When answering calls the built in microphone activates the noise cancellation technology. This ensures voices are heard and delivered accurately.
Pros
Its noise reduction rating proves to protect your eardrums

It's simple and easy to connect the devices

Comfortable to wear for hours

Bluetooth connection is reliable once it's paired
Cons
Earbuds need to be inserted deeply to experience the noise reduction

Low volume

Low battery life

Not always secured in your ears
Summary
The IPX3 rating system makes this earbud ideal for hard labor jobs or exercise. The noise isolating features are so precise they help you remain focused and not be easily distracted by background noise.
Make sure to check out the top noise cancelling earbuds.
#4:
Shure SE846-CL Sound Isolating Earphones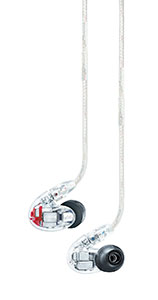 Click to Check Price on Amazon
Features
Shure SE846-CL blocks up to 37dB of ambient noise. No background noise will interfere with what you're listening to.
Pros
The kit has everything you need to enjoy quality sound

Strong body material

Comfortable to use for long periods

Loud amp sounds
Cons
Electronics fail easily

No balance between sound notes

Vibration noise can occur on bass tones

Pieces don't always fit ears as intend
Summary
Professional musicians helped engineer the noise isolating earbuds. They understand that background noise distorts the pure sounds of music. These earbuds were then perfected to deliver ultimate noise cancellation so you can listen to music clearly.
#5:
Symphonized NRG 2.0 Earbuds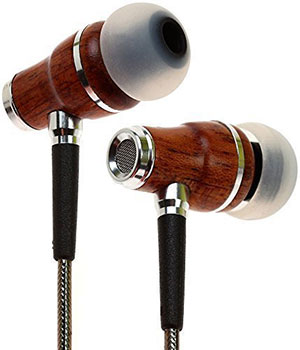 Click to Check Price on Amazon
Features
Symphonized NRG 2.0 earbuds are crafted from wood. They deliver a strong sound with a deep bass. The unique ear canal design reduces background noise. This enhances the sound experience you'll receive.
The three sizes ear tips to pick from generate a higher chance that you'll find one that fits perfectly in your ear.
It's quick to connect to your device. It's also simple to use when listening to music or taking and ending calls.
Pros
High quality materials

Well balanced sounds are delivered

Noise reduction is impressive

Arrives with replacement parts
Cons
The cable doesn't roll up easily because it's thick

Cord makes a lot of noise when it hits against your body

They can be uncomfortable

Not durable
Summary
If you prefer wired earbuds but can brace the tangles then consider Symphonized NRG 2.0. The wire is thick so it doesn't tangle easily. When you're in a noisy environment the noise isolating earbuds can be used easily. You can also read our reviews on Symphonized Wraith and Symphonized NRG 3.0.
#6:
MEE audio M6 PRO Universal-Fit Noise-Isolating Musician's In-Ear Monitors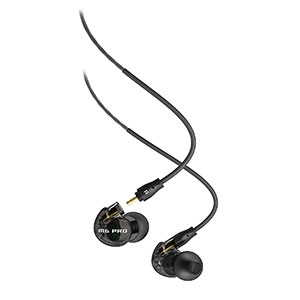 Click to Check Price on Amazon
Features
The six sets of silicone ear tips ensure almost anyone can enjoy the audio precision and sound isolating design. The tips are made with a foam which makes them comfortable to wear for hours.
MEE audio M6 PRO noise isolating earbuds are water resistant and have two detachable & replaceable cables. The stereo cable has internal braiding. This provides its strength and tangle free qualities.
The headset cable allows you to control your music and answer calls seamlessly. The earbuds are compatible with phones and tablets.
Pros
Cord doesn't deteriorate easily

Comfortable

The noise cancellation is impressive

The different size tips make it easier to get the right fit for you
Cons
Needs to be broken in to experience the sound promised

High end frequencies sound harsh

Volume isn't loud

Flat bass
Summary
These noise isolating earphones are practical to use in places or professions where background noise needs to be blocked. They're extremely durable and can survive continuous use. The replacement parts also bring the longevity you need in an earbud.
#7:
SoundMAGIC E10 Noise Isolating In-Ear Earphones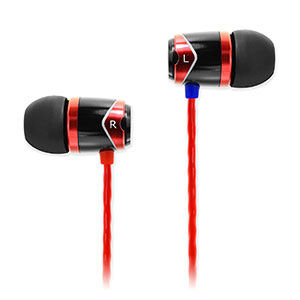 Click to Check Price on Amazon
Features
The unique metal construction makes SoundMAGIC E10 durable. The six pairs of silicon tips make it easier to find a size that is suited to your ears. These tips are comfortable to have in your ears for hours.
The powerful bass balanced with the high musical notes provides a sound experience you desire when you're in noisy environments. The noise cancellation characteristic ensures you only hear the crisp notes and vocals of your songs.
Pros
Body and wires are very durable

Balanced sounds

Storage case protects against impact

Long cord
Cons
Earbuds can fall out easily

Cord gets tangled easily

Static noises can occur

Lifespan is not long
Summary
These earbuds are practical if you want to do simple tasks such as riding a train. They provide the noise cancellation you need so you can listen to your music clearly or concentrate on work.
#8: T
hinksound ts02-blkchoc 8mm Passive Noise Isolating Wooden Headphone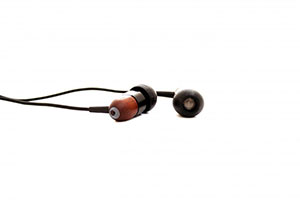 Click to Check Price on Amazon
Features
There are four sized ear fittings for Thinksound ts02-blkchoc. When you find the one most suited for you, you will experience noise cancellation that you've never had before.
The noise cancellation ensures you listen to your music without any background noises to distract you.
Pros
Lightweight for travelling

Comfortable

The body is strong

Strong bass and clear highs make music listening enjoyable
Cons
Ear fittings detach from the pieces easily

Sound quality can deteriorate through use

The cable makes a noise that can be heard through the earbuds

The tips are hard and feel uncomfortable
Summary
The simple and sleek design promises to deliver noise cancellation when you need. The award winning sound balance ensures you can listen music in clear tones.
#9:
MEE audio M-Duo Dual Dynamic Driver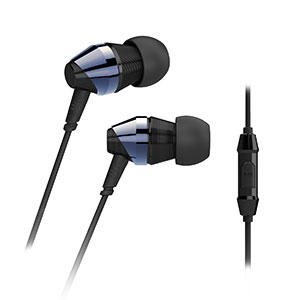 Click to Check Price on Amazon
Features
The subwoofers give your music more bass and deliver clear vocals & instrumentals.
You can control the media and calls with the integrated microphone & remote. MEE audio M-Duo is compatible with Smartphones, tablets and other devices with a phone jack.
Pros
Small and lightweight

All frequencies deliver impressive sounds

The music doesn't distort

Comfortable to use
Cons
No volume controls

Tips can fall out of ears easily

Not durable

Weak wiring
Summary
If you prefer music with a kick of bass then these earbuds are your ideal options. They block ambient sounds. You can listen to your music without any disruptions.
The Isotunes PRO Noise Isolating Earbuds are what you need if you want silence in noisy environments. They're built to block the sounds of harsh machinery. The impressive noise cancellation features with balanced sounds mean you can have peace as well as enjoy your favorite tracks wherever you are.
Also Read Top 8 Most Durable Long Lasting Earbud Headphones In 2018