A lot of people enjoy using bluetooth earphones. They do away with the issues of tangling and having to worry about your earbuds getting pulled out of your ears suddenly. Because of these benefits, there is an increasing number of people who use bluetooth earbuds. However, they can sometimes have issues with getting lost because they are so small.
Magnetic bluetooth headphones can help stop that problem with their ability to magnetically stick together. Aside from that, they have a lot of other benefits that are sure to give you a better listening experience. This article is going to present a list of five popular brands of magnetic bluetooth headphones and what they can do for you.
#1: Anker SoundBuds Slim Wireless Headphones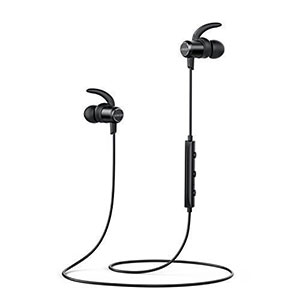 Click to Check Price on Amazon
These headphones offer 6mm drivers that are precision engineered to be top of the line. They use Bluetooth 4.1 to feed sound into the headphones with no wire to plug into your music device, meaning your audio won't skip. They are lightweight and customizable so that they can fit your ears perfectly no matter what size they are. Due to the long battery life, you'll be able to listen to music for up to 7 hours continuously from just one full charge.
They have a shell that is water-resistant and an internal nano-coating to make sure they are fully protected from water. That means you'll be able to run in the rain without having to worry too much about them being effected by rain water or sweat. The full kit that comes with these magnetic bluetooth headphones will include the soundbuds, tips of various sizes so that they can fit into your ears snugly, In-Ear hooks, a shirt clip, FitClip, MicroUSB cable for charging the headphones, a welcome guide and an 18 month warranty for your peace of mind.
Discover everything that you ever wanted to know about headphones and earmuffs.
#2: TaoTronics Wireless 4.1 Magnetic Earbuds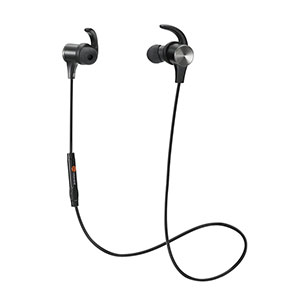 Click to Check Price on Amazon
These earbuds come in black, blue, green and red, allowing you to choose the color that best matches your personality. They have a secure fit, which allows them to easily be used while running, biking or even at the gym. They also have built in magnets that allow them to stick to one another when not in use, this makes them more easy to store as they can be worn as a necklace.
The TaoTronics earbuds offer 5 hours of listening time or 175 hours of standby time, so you'll have plenty of time to enjoy them before they need another charge. The noise isolation technology on these earbuds makes it possible to enjoy the music even in noisy areas without having to worry about that outside noise cutting in. Like many bluetooth earphones and headphones, these are compatible with all bluetooth enabled devices, making it easy to listen from your phone, tablet or other device.
#3: Esonstyle In-ear Wireless Magnetic Earphone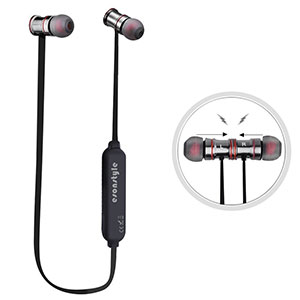 Click to Check Price on Amazon
The Esonstyle earphones offer a really great sound quality, which is the most essential aspect of any earphones. Nobody wants to listen to tinny music through cheaply made speakers, and with these you won't have to. Like other earphones in this article, these are magnetic and therefore can be worn like a necklace when not in use. That means you won't have to fish them out of your pocket or bag each time you need them. They have a wonderful noise-cancelling feature which keeps all background noises quiet so that you can focus on the music and have a great fit so you won't have to worry about them falling out when you're moving around a lot.
Discover the best noise cancelling earbuds.
#4: Yoozon Wireless Magnetic Earbuds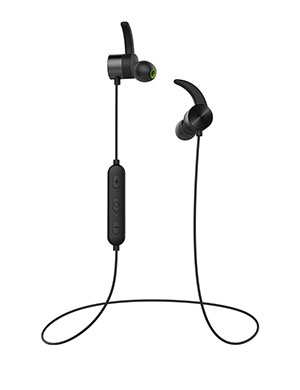 Click to Check Price on Amazon
These earbuds have the latest in Bluetooth 4.1CSR technology, which allows them to work better at longer distances. With the Yoozon earbuds, you'll be able to listen to your music from up to 33 feet away from your device. That's pretty great compared to other magnetic bluetooth earbuds that are available. You'll be able to get up to 5 hours of listening from these earbuds before they need to be charged again and they have a great noise-cancellation feature to allow you to hear your music without any annoying background noise.
Like other earphones, these will fit well during high-impact workouts such as hiking, jogging or at the gym and their magnetic ability will allow them to be worn like a necklace. With the Yoozon earbuds, you'll also get a one year warranty that goes to show the company really stands by their product.
#5: Senbowe Magnetic Bluetooth Headphones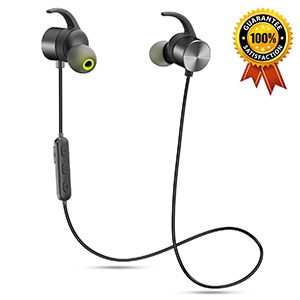 Click to Check Price on Amazon
These Senbowe headphones are known for a great level of signal capability, allowing you to keep a strong signal as you work, exercise, or relax while listening to your favorite music. They provide noise cancellation to keep background noises from disrupting your experience and are capable of being worn like a necklace when not in use due to their magnetic ability.
You'll be able to get up to 7 hours of listening time with the Senbowe headphones before having to worry about charging them again, which in most cases should allow you to get through your day with all the music you need. If you don't listen continuously, then there are also 150 hours of standby time. With these headphones, you'll also be able to adjust the mic and volume control using buttons on the wires that connect the headphones to each other.
Conclusion
Overall, these are all great choices when it comes to magnetic bluetooth headphones or earphones. They all vary a little bit in the amount of battery life they have as well as other features so it's going to be important to do plenty of research before spending money on new earbuds.
The good news is that with this list, you'll be very likely to get a pair of earbuds that are going to be highly beneficial for you and offer years of enjoyment before needing to be replaced again. No matter which ones you decide to purchase, or what you use them for you'll be sure to get a lot of enjoyment out of a new pair of magnetic bluetooth headphones.