You probably already heard about Sennheiser. In case you haven't, you need to know that they usually provide a great audio quality on all the headphones they have. And the Sennheiser RS120 isn't an exception. Quite the opposite.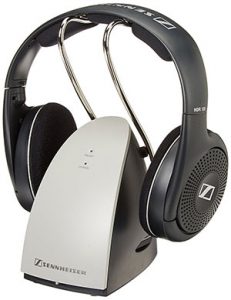 Click to Check Price on Amazon
The Sennheiser RS120 headphones are wireless which allow you to move completely free without worrying about any cables.
Discover more top rated earbuds and earmuffs.
When you order the Sennheiser RS120 headphones, you will get the on ear headphones as well as a transmitter base. The base is actually what sends the sound to your headphones and this is what needs to be connected to your computer, sound, system, TV, among others. 
In what concerns with the sound quality, we can definitely say that is even superior to many of other Sennheiser headphones, some of them that are even more expensive. You will notice the excellent detail resolution, especially on CDs and DVDs. It features a great and strong bass response and an analytical and detail sound reproduction. So, in case you're a music lover or you simply tend to use your home theater a lot of times, then you just need to get the Sennheiser RS120 wireless headphones.
One of the main advantages of the use of the base is that it allows not only to transmit the sound to the headphones as it also acts as a recharger. The Sennheiser RS120 wireless headphones include NiMH batteries that are already included in the package and you need to place them on the earcup. When you don't want to wear your headphones anymore, just hang them on the base and they will charge.

If there is one thing that is very annoying when you're using some wireless headphones is when, suddenly, they don't have the reach for you to continue listening to your favorite music or watching a good movie. However, this won't happen with the Sennheiser RS120 wireless headphones since they can work up to 120 feet away, which is absolutely remarkable.
Another feature that you always need to check out before you buy a new pair of headphones is the comfort. So, in order to check this out, you need to look at the headband as well as at the earcups. Taking a quick look at the Sennheiser RS120 wireless headphones, we can say that the Sennheiser RS120 wireless headphones are lightweight and the headband is padded. This provides you with all the comfort you need when you simply want to listen to some good music or watch a movie.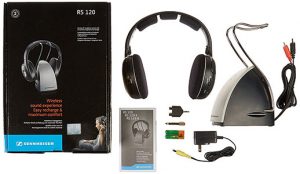 In what concerns with the controls, they are extremely simple and easy to use. You'll be able to control the volume and turn it on and off directly on the headphones. Plus, you'll also have the ability to choose between 3 different RF channels. This will make sure that you get no interference ever. So, you'll get a great reception all the time.
Overall, the Sennheiser RS120 wireless headphones are one of the best choices you have on the market when you are looking for some good wireless headphones to wear at home.