Everyone needs a great pair of headphones these days. We spend so much time being hooked up to our smart devices, whether we are listening to music or podcasts, so it is crucial to find a pair of headphones that are comfortable and work great for you.
Today we are going to be reviewing the AYL QY8 Bluetooth Headphones, available both online and in brick and mortar stores. Are these wireless headphones worth purchasing? Should you buy them?
Click to Check Price on Amazon
Features
The AYL QY8 Bluetooth Headphones come equipped with so many features to enhance your sound and also provide added comfort. What drew us to the AYL QY8 in the first place was the unbelievable price. There are so many headphones on the market these days that it can be very exhausting to try and find a pair that are going to work the best for you. They can range in price, and with new brands appearing on the market (such as Beats headphones) they can definitely get up in price to several hundreds of dollars. This is why we decided to review the AYL QY8 Bluetooth Headphones, as a way to determine if cheaper may be the better way to go.
Discover the best headphones on the market.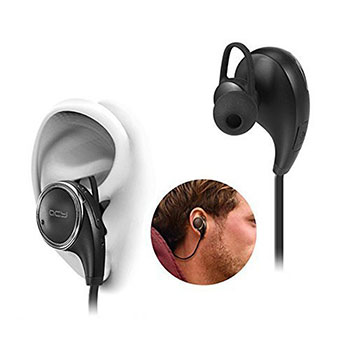 The AYL QY8 Bluetooth Headphones offer you a high quality of overall sound. They have a very unique design, as they have this cavity feature that only AYL QY8 offers. In the vibrating diaphragm portion of the headphones, they are 20% more effective than the average Bluetooth headphone. In order to keep any outside noise out they have the CVC 6.0 smart noise reduction technology that is known for keeping your music the only thing you hear. As for the lower section, the AYL QY8 Bluetooth Headphones has a great resonance in terms of the bass. There is an HD microphone built right into the headphone set so you can make phone calls, and also providing you a great quality of stereo sound.
In case you're looking for magnetic Bluetooth headphones, make sure to check out the top 5 magnetic headphones.
The AYL QY8 has been updated from the QCY version of this brand on Win-Market. These headphones are wireless, which is important nowadays as wires just tend to get in the way. This makes them ideal for working out with as they will provide you with ease of use, always staying out of the way. They have been equipped with Bluetooth 4.1 and also the CSR 8645, improving the wireless signal by over 2 times the normal set of Bluetooth headphones. This makes the AYL QY8 Bluetooth Headphones pairing process a lot easier than others, and they have the ability to work wireless with a Bluetooth device up to 10 meters away.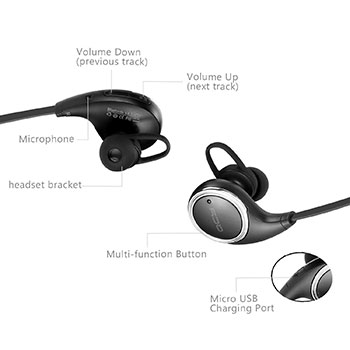 The AYL QY8 Bluetooth Headphones have a high-polymer 80mAh battery, which means that it can last a long time. They only take 2 hours to charge and will allow you to listen to music for up to 5 hours. On just one charge, they can still be alive for 175 hours on standby, so you can leave them be without worrying about them.
As for comfort level, the AYL QY8 Bluetooth Headphones have been created with a secure in-ear fit design, making it ideal for any sort of exercise. They can be placed behind the neck, making it even more comfortable. There are controls built right on the ear, so you will have ease of use. You can change the volume, control your calls, all directly from these wireless earphones. As we mentioned before, the pairing process with AYL QY8 Bluetooth Headphones will greatly help you get music playing fast without any frustration.
Pros
Affordable price

Wireless

Easy to use

AYL QY8 Bluetooth Headphones pairing process is easy
Cons
Sound could definitely be of higher quality
Final verdict
Before we get to the final verdict for the AYL QY8, something to note is that buying a new set of headphones definitely comes down to personal preference. It all depends what you are interested in and what you want the most. Will you be using the headphones mostly in an active setting or just sitting down? What do you listen to the most—music, audiobooks or podcasts? All of these answers will influence your final purchase decision. The more needs you can identify before shopping, the easier it is going to be to find a pair that best benefit you. No matter what we decide on a particular product, our opinions may vary and you always need to do some research yourself.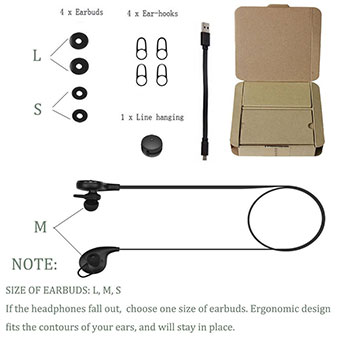 With that being said, we believe the AYL QY8 Bluetooth Headphones are a very affordable option if you are looking for a wireless set on a budget. Wireless is probably the most desirable feature about these headphones as it is the way of the future. Wires just get in the way, and the AYL QY8 Bluetooth Headphones are perfect for working out as you can control everything from the earphones themselves. One of the best parts about them is that the AYL QY8 Bluetooth Headphones pairing process is also a breeze, and they can hook up with a Bluetooth-enabled device easily without any difficulty.
The bad part about the AYL QY8 is that the sound quality could be a lot better—it is just okay, and even though they brag about having a wide range of sound, with a deep bass and great high end, that is just not true. At its price point, you are rarely going to find a pair of headphones that can actually offer you superb sound quality.
The AYL QY8 Bluetooth Headphones are a great buy if you do not want to spend a lot of money on headphones, and just need them to work, without being too concerned with great sound quality. We wish you all the best in your final purchase decision.